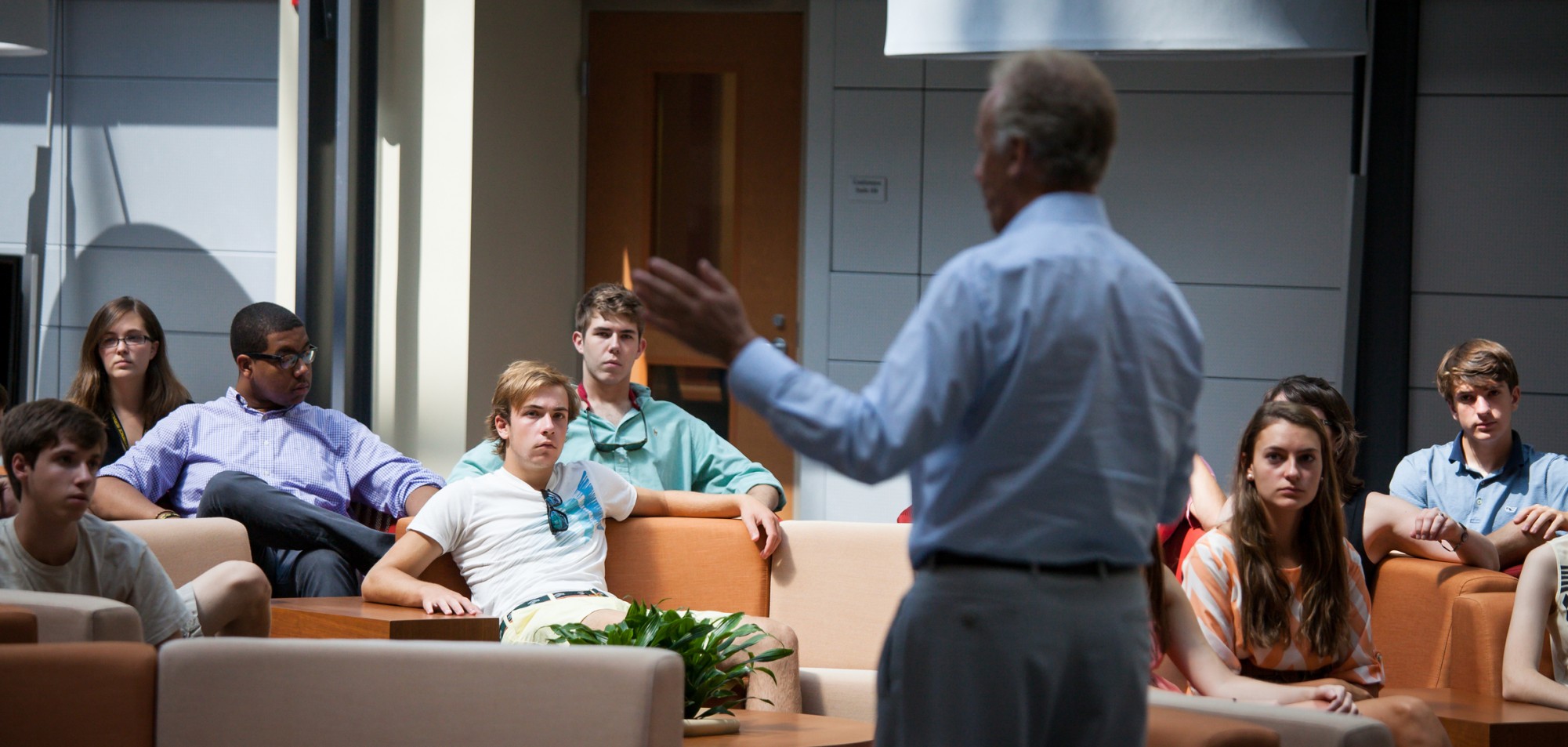 Q: Who is eligible for LENS?
LENS is open to rising high school juniors and seniors. Domestic and international students are invited to apply.
Q: When is the LENS program?
LENS@Wake Forest is offering two sessions in 2016.
Session 1 Global Sustainability is June 26 – July 15.
Session 2 Cultural Crossroads is June 26 – July 15.
Students will dive right in on their arrival day. On the final day of the program, students will participate in a graduation ceremony and final presentations to families and faculty.
Q: How do I apply for LENS?
Applications may be submitted electronically or by mail.  In addition to the application form, applicants are required to submit a high school transcript and two essay responses.
Q: How much does the program cost?

The comprehensive program fee for LENS 2016 is $4,200 which includes academic instruction, housing, meals, excursions and more. Read more about the program fee under Tuition.  Students are responsible for personal spending and travel expenses to Winston-Salem. A limited number ofscholarships are available.
Q: Should I bring a computer?
Students are encouraged to bring a laptop computer for use in the classroom, group project work and communication.  However, those who are without a laptop or who do not wish to bring their personal machine will be provided with computing support during their time at LENS.
Q: Where will I live?
LENS participants live on-campus at Wake Forest University in an undergraduate residence hall.  Students will be assigned to a double-occupancy room.
Q: Can I bring a car?
While at LENS, all of your transportation needs will be met. Having a car on campus is not necessary and therefore not encouraged.
Q: Can I earn college credit through LENS?
Although you will not earn college credit as a LENS participant, you will gain access to a plethora of opportunities and people.  You will work closely with your peers and Wake Forest professors to craft a community action plan that can be used in your home community to enact positive change.  You will also receive an official certificate of achievement for your participation in the program.
Q: How big is the program?
Each LENS cohort is approximately forty-five students, which is divided into small groups for project work.
Q: Are there accommodations for disabled students?
Wake Forest University is a fully-accessible campus.  Students with disabilities are encouraged to apply.
Q: Who are the LENS Program Assistants?
Program Assistants (or resident advisors) are undergraduate students who have been professionally trained to live and work with students in a residential setting.  Program Assistants are selected because of their maturity and ability to foster inclusive and enjoyable living situations for residents.
Q: Can I choose my roommate?
LENS participants are not allowed to choose roommates.
Q: Can I have outside visitors/overnight guests during LENS?
Please encourage your friends and family to give you this time at Wake Forest without interruption. We have a very busy schedule (day and night) and cannot easily accommodate visitors. Overnight guests are not allowed in the residence hall.
Q: Will participating in the LENS program help me get into Wake Forest?
Like all extracurricular activities, participating in the LENS program will make you a more interesting and experienced applicant.  Your improved writing skills and understanding of interdisciplinary thinking will prove beneficial as you apply to college.  Although your participation in LENS will not afford any preferential treatment in the Wake Forest admissions process, it will add another dimension to your application and make you a more critical and effective thinker and writer.