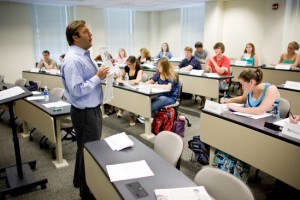 Welcome to LENS!  We are delighted that your son or daughter is considering a summer experience at Wake Forest University.
As the nation's premier collegiate university, Wake Forest's primary mission is the education of students.  Our community is home to an undergraduate population of roughly 4,600 students and graduate and professional programs consisting of Schools of Law, Divinity, Medicine, Business and Arts and Sciences.  During the summer months, our campus hosts numerous summer programs and activities.  Students of all ages converge on campus for weeks of training, education and recreation.
While at LENS, your student will have access to the amenities and resources open to Wake Forest students, including dining options, recreational facilities, residence halls, computing and wireless internet connectivity.  As always, the safety of students is our highest priority. LENS has a staff of four to five full-time program assistants (think resident advisors plus more!) who live with students to ensure their safety.  In addition, the Wake Forest University Police is on-call twenty-four hours a day, seven days a week.
Please visit our university homepage to learn more about Wake Forest.