Airport Information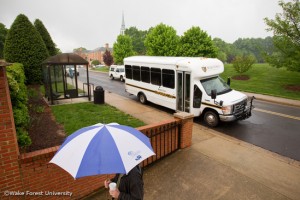 The closest airport to Wake Forest University is Greensboro Piedmont Triad Int'l Airport (GSO). It is strongly recommended you use this airport when you are booking flights.
While flights to Charlotte Douglas Int'l Airport (CLT) and Raleigh-Durham Int'l Airport (RDU) may be cheaper, please keep in mind that both of these airports are located approximately 2 hours away from Winston-Salem. Therefore, the transportation costs from these airports may equal or exceed the amount you saved on flights.
*Should you decide to fly into Charlotte or Raleigh instead of Greensboro, you will be responsible for arranging your own transportation and you will also be responsible for the associated costs. Wake Forest University partners with Airport Connection Express (ACE Transportation) for students needing transfers to/from the Charlotte or and Raleigh airports. Information on this shuttle service and reservation instructions can be found on their website: http://www.airportconnectionexpress.com/
If you ARE participating in a Pre-Orientation Program: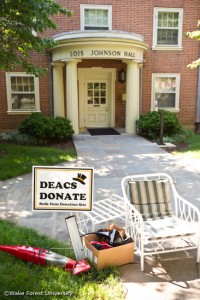 Special arrangements have been made to allow F-1 and J-1 visa sponsored undergraduate students to move into their on-campus residence halls on TBD. The Office of Residence Life and Housing will have your Deacon One Card (WFU ID Card that allows you access to your dorm), and your keys for your room available for pick-up from 9am-5pm EST in Angelou Hall.
Several first-year dormitories do not have elevators so bear in mind you may have to carry your luggage up multiple flights of stairs.
The dormitories come with a twin extra-long bed, mattress, desk, closet, mini-refrigerator/freezer unit, and bureau. You can get a sense of what the WFU dormitories are like by visiting the following website (http://newstudents.wfu.edu/housing/).
However, items such as bedding and towels do not come with your room. It is strongly encouraged that you order your bedding/linens ahead of time from an ordering service such as http://www.rhl.org/wfu or websites of other retailers in the U.S.  Please try to have your packages arrive no more than 10 days in advance of your arrival on campus.
The shipping address to use is:
     [YOUR NAME]

     1834 Wake Forest Road

     Winston-Salem, NC  27106

     HOLD FOR ARRIVAL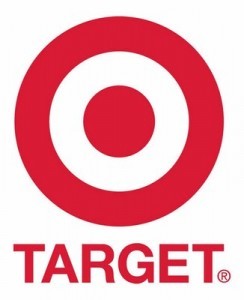 The Campus Post Office is open during regular business hours, Monday-Friday 8 a.m.-5 p.m. and Saturday 11 a.m. – 1 p.m.
Target Shuttles
For a few hours on [date TBD], shuttle service will be provided to a local superstore (Target). The store carries all items including bedding, electronics, school supplies, food, clothing, and much more. A list of recommended items/prohibited items for the on-campus dormitories can be found here: Dorm Room Checklist
A packing list suggesting items to pack vs. items to purchase on arrival was included in the Arrival Guide booklet within your I-20 package. Please read through that list to get an idea of what you should consider bringing with you as you're planning your arrival to WFU.
Meal Information
Campus dining facilities will not open until TBD. As such, your meal plan will not take effect until this date.
All major meals (breakfast, lunch, and dinner) during international student arrival days and the pre-orientation programs will be provided. You may also purchase food to keep in your dormitory for snacks/additional meals.