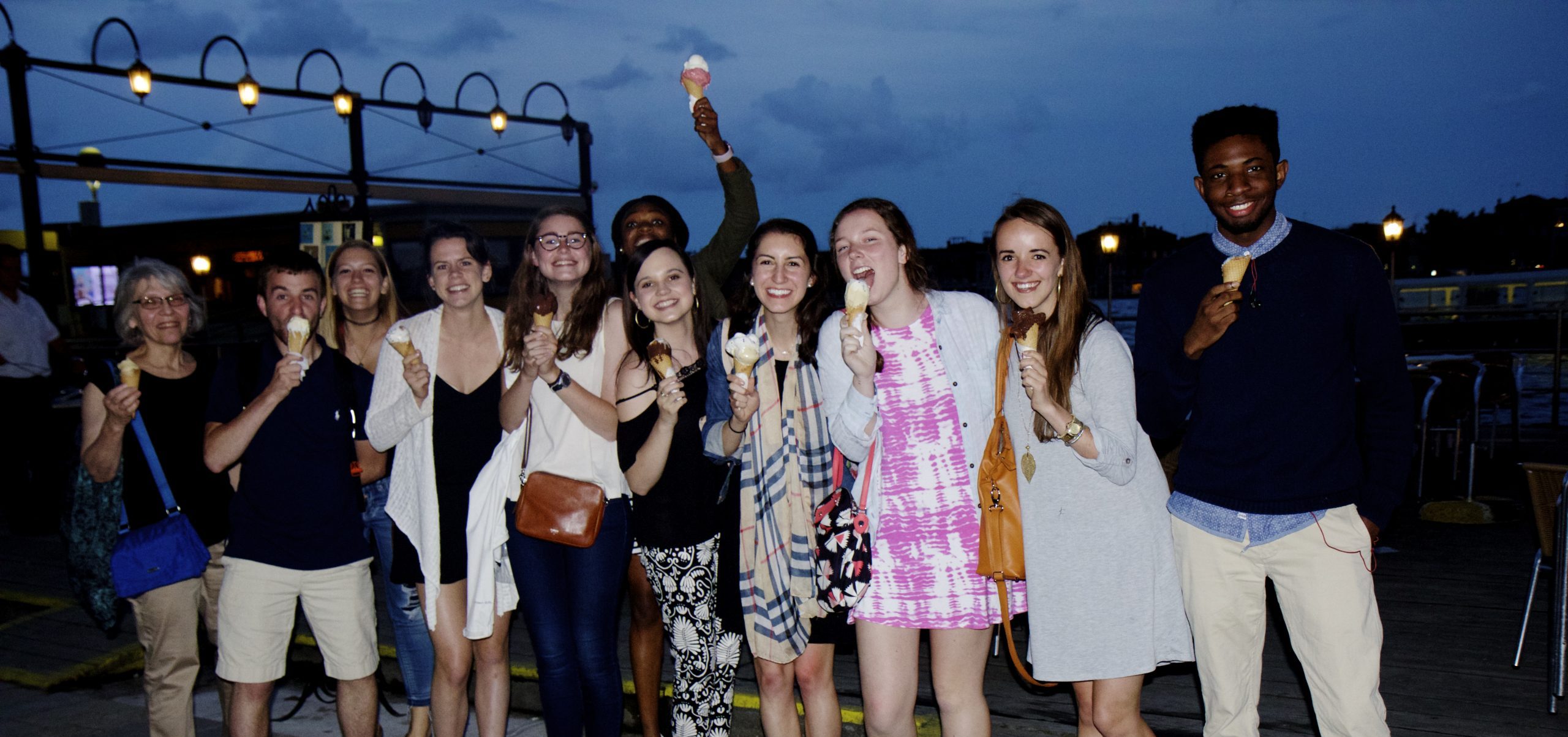 ---
AWAKEnings
I have had many terrific semesters at Wake Forest but the fall of 2018 when I taught first year students in Copenhagen in the AWAKENings program stands out above the rest. Why was it so special? The reasons are numerous but here are a few. Denmark is a beautiful and progressive country and its people are friendly and speak English as well as Danish. Copenhagen is walkable and interesting with castles, canals, outdoor cafes, museums, music, and shopping. Public transportation is abundant and efficient. There is always something to see and do. The city is easy to navigate.
In addition, Wake Forest's partner in Denmark – DIS – is professional in every way and most accommodating. The staff and faculty of DIS are gregarious and knowledgeable. The DIS classrooms are spacious and up to date. Students have their own apartments and quickly learn to cook and care for themselves and their classmates. They also can explore Scandinavia on their own. In addition, they have several educational weekend trips with the DIS faculty to unique sites and cities in Europe, where you are invited. The faculty apartment in Copenhagen is roomy and modern.
I have only superlatives in describing the AWAKEnings Program. It is simply wonderful, stimulating, enriching, and unforgettable!
–Samuel T. Gladding, Professor, Department of Counseling | stg@nullwfu.edu
The Danes truly live an intentional life: cultured, respectful of their history, kind, family oriented, innately stylish. Copenhagen is a wonderful, walkable port with history, art, great food, and charm galore. It is a beautifully walkable city. Add to that the efficient and welcoming staff and programming of the Danish Institute for Study Abroad, our host and partner institution. Global AWAKEnings provides the perfect "growing up" experience for Wake Foresters on their way to becoming citizens of the world. The semesters include lovely trips, whether to Euro-centers (such as Venice or Vienna) or to small Danish towns and islands. Copenhagen has one of the most efficient transit systems in the world, making diverse experiences in the region accessible and inviting. Either semester will prove a life changing and moving experience for students and faculty family.
–Tom Phillips, Professor Emeritus | phillito@nullwfu.edu
---
Casa Artom
My semester in Venice will be one of my career highlights, special both personally and professionally. I did not apply to teach abroad until I had been at Wake for 30 years. Although I was confident that the Venice program would provide outstanding teaching support, which it did, I did not think that it would be practical to pursue a research program there. I could not have been more wrong. The house professional staff were absolutely wonderful, helping me establish connections with local academics and other professionals in the Veneto that blossomed into valuable collaborations that we continue to pursue today. Moreover, the intimacy of living and working with students made mentoring and coursework more meaningful than I had imagined. And again, the house professionals could not have been more supportive, making every issue melt away. Additionally, Venice is one of the most incredible cities on the planet. It is fully modern in every way that is important, but with its rich history evident everywhere. Just imagine! One travels by foot and by boat, but not by using any sort of wheeled vehicle! And of course the art, the cafes, the monuments and museums, and the easy access to the heart of Europe are all great features. If you do not think that you could flourish during a semester in Venice, I suggest that you think again.
–Jim Curran, Professor, Department of Biology | curran@nullwfu.edu
Casa Artom is literally a palace on the Grand Canal, with every postcard feature one could imagine: balcony overlooking the water, usually accompanied by gondoliers singing (in Italian); an internal courtyard with fragrant plants surrounding wrought-iron tables (perfect for coffee or aperitivo); the most beautiful living-room Wake owns, with a grand piano (bonus: Dr. Kairoff playing that piano); and of course a separate area for faculty and their loved ones.
When we went, we kept our door open during the day, so that students knew we were there for them, but they were usually too busy walking around Venice, exploring Italy and Europe, and yes, of course, studying. We also shared a weekly family dinner, with all of us rotating for cooking and cleaning duties. The students forged life-long friendships, keeping in touch with each other and with us.
The house is fantastic, the program even better. Faculty can teach their own classes, working with local colleagues to connect the material to the many Venetian features that make the residence unique, from history to arts, from the environment to music, or just about anything else. Our Italian colleagues invite faculty to join their walking tours, passing through "do not enter" signs and unlocking even deeper, more nuanced beauties through the stories, the people, and the love for Venice. Wake faculty also get to organize their own class trips, with the help of the amazing local staff.
The food? Come on, it is Italy. Going grocery shopping in Venice is a bucket-list item, only for those who shall not fear the local Venetians' exasperated looks (ma dai…). It is worth every elbow, to come home to cook a perfect meal, and enjoy it on that balcony overlooking the Grand Canal.
The only challenge as faculty in Venice? One may never want to leave, even if it is to return to Mother So Dear.
–Alessandra Von Burg, Associate Professor, Department of Communication | beaslea@nullwfu.edu
From the moment I arrived at Wake, I knew that I wanted desperately to be a resident professor at one of Wake's overseas houses. When I got accepted to the Venice – Casa Artom house, my family and I were overjoyed and it dominated the next few years of my life. Now, that we are a year out, I can tell you without a doubt that it was one of the highlights of not just my time here at Wake, but my whole life. Of course the travelling was amazing and Venice is one of my favorite cities in the world and I cherished being able to share that with my family. But, my favorite part was the students. We had a wonderful group of students and I treasured getting to know them on such a deeper and complete level than is possible on campus. Were we their parents? Kind of, but that was part of the charm. Were there some problems? Sure, I had to answer calls at 1 am from panicked students, but again, that was part of the experience. Our students are amazing and getting to know them when they let their guards down you realize that they are really cool young adults. Trust me, I'm not trying to convince other Wake faculty to participate. After all, why would I want the competition when I plan on applying every year until I get accepted again? 🙂
–Christian Waugh, Associate Professor, Department of Psychology | waughce@nullwfu.edu
---
Dijon
Check back soon!
---
Flow House
There is no city I know with such a reverence for music, from the Staatsoper to local church choirs. Vienna packs so much culture (art and architecture, history, music, the coffee house life) into a smallish, walkable, efficient city, nestled between the Danube and the Vienna Woods (foreshadow to the Alps not far away). Flow House nests in a beautiful western suburb yet is no more than 15 minutes by public transport to the Ring and the first district. Vienna has an incredible array of museums (many small, old, endearing, and even quirky). Most of all it is a beautiful and walkable and safe city, one with a unique vibe, and regularly voted the best city in the world. Time spent there will show you all the reasons why.
–Tom Phillips, Professor Emeritus | phillito@nullwfu.edu
The Austrian writer Karl Kraus wrote: "The streets of Vienna are paved with culture, the streets of other cities with asphalt." The Flow House program in Vienna is unique in that it provides such an unparalleled cultural experience—music, art, theater, history, literature, culinary arts, and architecture—Vienna offers it all, combined with the most central location in Europe. The Flow House itself is a beautiful villa, old, charming and well located on a beautiful tree-lined street next to a large natural park.
–Timo Thonhauser, Wright Family Professor of Physics, Department of Physics | thonhauser@nullwfu.edu
As a resident professor at one of WFU's study abroad programs, you will be afforded the unique opportunity to connect with students and educate them in a way impossible on campus. You, your family, and students will get to travel together and share all the joys of new international experiences, cultural differences, and regular visits to significant historical sites, often guided by world experts. You will also be given the rare gift of time to truly educate students and watch them grow over the semester as they wrestle with the content and theoretical underpinnings of your courses, as well as the realities of living in a foreign country and being pushed outside of their comfort zones. It is a truism for students that they will gain unforgettable memories, acquire confidence in global settings, make lifelong friends, and develop a new sense of independence. Such things are key to our university motto, pro humanitate. In my experience, this is equally true for resident professors who get to develop new forms of pedagogy and mentoring, while being paid to live in some of the world's most exciting places: for this reason alone, I highly recommend applying for the position.
–Jarrod Whitaker, Professor, Department for the Study of Religions | whitakjl@nullwfu.edu
---
Salamanca
The WFU Salamanca Program is unique! It combines the cultural awareness of other study abroad programs with a full measure of language immersion. It has been a joy for me to observe the dramatic increase in Spanish language skills and enhanced confidence our Salamanca students gain from the experience.
–Irma Alarcón, Associate Professor of Spanish, Department of Spanish & Italian | alarcoi@nullwfu.edu
Because I lived in Salamanca, Spain for over a year on a Rotary Ambassadorial Fellowship when I was a student (1994-95), it has been an extraordinary pleasure to have the opportunity to serve as Resident director for Wake Forest students Fall 2013 and Summer 2017. I have watched this next generation experience this wonderful city for students and take advantage of full immersion opportunities, especially those who choose to live with local families. Even those who choose to live in student housing have immersed themselves, making strong friendships with Spaniards who come from away to study at the world-renowned University of Salamanca. Wake Forest's center in Salamanca provides top notch teaching and office space and serves as the hub for our students while they study abroad. We are lucky to have excellent, long term staff who make every aspect of the Resident Professors' job easier.
–Margaret R. Ewalt, Associate Professor of Spanish, Department of Spanish & Italian | ewaltmr@nullwfu.edu
Leading the Salamanca, Spain program in Spring 2010 and then teaching the Introduction to Spain course in Salamanca in Fall 2019 were wonderful experiences. I watched students who had never traveled abroad stare in awe at centuries-old castles and cathedrals and marvel at modern environmentally friendly hotel features ("And we thought we were green, Profe!"). I looked forward to hearing reports from my more experienced travelers who were living with host families for the first time ("We have two-course lunches every day!").
The decision to go to Salamanca was daunting, but my department and GPS were extremely supportive and provided guidance every step of the way. Former program directors offered Spain-specific advice, and GPS advisors held orientation sessions for new directors and private meetings to address any additional concerns. Since I was a last-minute substitute in Fall 2019, GPS was invaluable in helping me prepare in a matter of days.
My biggest worry when I went abroad was feeling cut off from campus support. However, Javier and Fernando at the WFU Centro in Salamanca manage the program exceptionally well and maintain regular communication with the Reynolda campus. When issues did come up that needed guidance from home (as they inevitably will), my department and GPS were very responsive.
All in all, I would highly recommend leading a study abroad program. Wake Forest has well-established programs with a long track record of success, and GPS has developed excellent resources and support for both faculty and students.
–Rebekah Morris, Associate Professor of the Practice, Department of Spanish & Italian | morrisrl@nullwfu.edu
---
Southern Cone (WFU Chile: Across South America)
The Southern Cone program combines the best qualities of a study abroad immersion experience with the structure and support of a Wake Forest education. Students benefit from homestays that immerse them in Chilean language and culture, courses that allow for interaction with local and international college students, and excursions to some of the most amazing places on the planet. At the same time, a Wake Forest faculty member provides mentoring and support throughout the experience, which is paramount to the Wake Forest mission of promoting meaningful faculty-student engagement. Indeed, this is an extraordinary experience for students and faculty alike!
–Steve Giles, Associate Professor of Communication, Department of Communication | gilessm@nullwfu.edu
---
Wake Washington
The Wake Washington program may be a natural choice for students and faculty interested in politics, but it is a wonderful opportunity for those interested in other fields as well. As an art historian, I knew that DC offered an array of museums and galleries that equaled any in Europe, and the internship program was a real plus for my students. The connections they made through the internships and the many alumni events will serve them well in the future. Even if most did not immediately land jobs (some did), they got to see people like themselves in a wide range of careers, and they learned about the various paths they took to get where they are. It was a real luxury to live in the heart of such a vibrant city!
–Bernadine Barnes, Professor, Department of Art | barnes@nullwfu.edu
I was the resident professor for this program during spring semester 2019. I taught two courses during the semester and participated in some of the other group activities with the students. The program is small – 16 students maximum – and the center is conveniently located near Dupont Circle, which is accessible by subway or bus from the faculty apartment located near Chinatown/Gallery Place Metro stop. It's also very easy to walk to the national mall and a central location for getting around the city. I found that I walked quite a bit during the semester. The apartment is very comfortable, well-furnished, and in an excellent location. It could be useful to consult with previous faculty to get a sense of any extra items to bring along (for the kitchen in particular).
Washington, D.C. could not be a more ideal location for the two courses which I offered during the semester. We were also fortunate to have a number of excellent speakers and class excursions which made for an exceptional academic experience for the students.
Faculty should be aware that this program is different from the other Study Abroad houses. Given the student schedule and housing arrangements, there is limited contact with the students and a lot of free time outside of Monday and Wednesday evenings and Friday mornings (and sometimes afternoons). Depending on time spent on class preparation, there can be a lot of time for research or other activities in the city. Faculty without contacts or friends in the area can find themselves somewhat isolated, although I was able to attend a number of think tanks and other events and did a lot of work at the Center office. It can however also be an opportunity to meet with former students living and working in the area, and this was one of the highlights of my experience during the semester.

–Tom Brister, Teaching Professor, Department of Politics and International Affairs | bristet@nullwfu.edu
---
Worrell House
In the Fall of 2019, I returned to Worrell House to direct the program there after a hiatus of nearly 30 years. Though much had changed—a remodeled kitchen and faculty flat, some new faces—much remained jubilantly the same: classes held in the beautiful library overlooking the walled garden in back, a play each week in London's plethora of theatrical venues, museum visits, and history walks that brought the old dame back beneath the hustle and bustle of the modern city. I enjoyed the company of fourteen enthralled (and sometimes exhausted) Wake Forest undergraduates, who not only drank up all they could of what London has to offer, but traveled widely throughout Europe on weekends and travel weeks. We all became fast friends. What a royal treat.
–Barry Maine, Professor of English, Department of English | maine@nullwfu.edu