The Quality Enhancement Plan (QEP) for Wake Forest University will focus on Transcending Boundaries: Building a Global Campus Community. Stemming from our tradition of liberal arts education, our mission to be a vibrant and diverse learning community, and our history of global programs and studies, we seek to surpass our previous successes in education abroad.
Click to download
Through this QEP, we will create a global campus community that is defined, not by place or cohort, but by a shared set of norms and values, and characterized by global mindsets. This community will be catalyzed by liberal arts education emphasizing intercultural inquiry, self-awareness, community interaction, intercultural communication and global responsibility.
As a result of our collaboratively identified student learning outcomes, we will launch four initiatives, each encompassing dimensions of liberal learning:
Global Connections to facilitate the ease and success of transition across cultures
Global AWAKEnings to develop global mindsets through a first-year abroad program
Global Villages to create living and learning communities focused on global mindedness
Global Laureates Academy to provide opportunities for enhancing global mindsets through our curricular and co-curricular programs.
Complementing these initiatives will be a version of the Global Laureates Academy for faculty and staff that promotes the development and enhancement of their global mindsets.
Concerted execution and assessment of these initiatives will allow us to more accurately and precisely measure their impact, and then make any necessary modifications or adjustments towards the collective vision of a Global Wake Forest.
QEP Timeline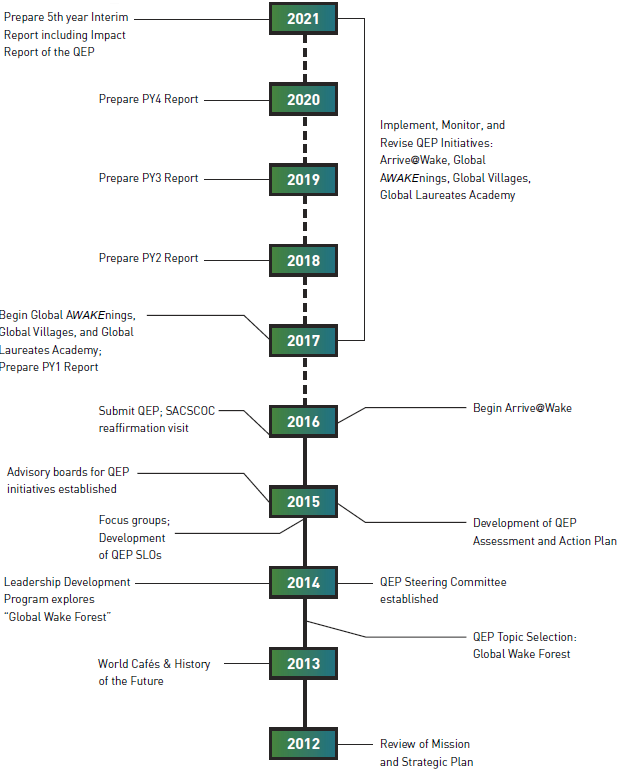 QEP Development Committees
Luis Gonzalez | Associate Professor of Spanish | Division II
Dick Schneider | Professor of Law | Law School
Brad Jones | Dean of the Graduate School | Graduate School
Mengya Li | Class of 2016 | Student
Andrew Smith | Program Coordinator | Global Programs and Studies
Michelle Klosterman | Dir. of Academic Development | GPS
Anne Boyle | Professor of English | Writing Program
Martha Allman | Dean of Admissions | Admissions Office
Catherine Ross | Director | Teaching and Learning Center
Wesley Harris | Interim Director | Office of Multicultural Affairs
Carole Gibson | Professor of Biology | Division V
Simeon Ilesamni | Professor of Religion | Division I
Amy Walls | Professor of Practice | School of Business
Neal Walls | Associate Professor | School of Divinity
Harsh Patolia | Class of 2016 | Student
David Finn | Professor of Art | Division III
Mary Wayne-Thomas | Professor of Theatre | Division III
Peter Kairoff | Professor of Music | WFU Abroad Programs
David Taylor | Director of Global Abroad Programs | GPS
Jessica Francis, Assoc. Director of Global Abroad Programs | GPS
Tim Auman | University Chaplain | Chaplain's Office
Mary Gerardy | Assoc. VP/Dir. Pro Humanitate Institute | Campus Life
Leigh Stanfield | Dir. of Global Campus Programs | GPS
Jose Villalba | Assoc. Dean Fac. Rec./Div./Inc. | Dean of the College
Brook Davis | Assoc. Professor of Theatre | Division III
Ian Taplin | Professor of Sociology | Division IV
Penny Rue | Vice President | Campus Life
Lauren Corbett | Director of Resource Services | ZSR Library
Shayla Herndon-Edmunds | Manager of Diversity Education | ODI
Allison McWilliams | Dir. of Mentoring | OPCD
Angela Mazaris | Dir. of LGBTQ Center | ODI
Candelas Gala | Prof. Romance Languages | Lang. Across the Curriculum
Lauren Formica | Class of 2016 | Student