Main Content
WISE Conference 2020 Plenary Panel
Moderator: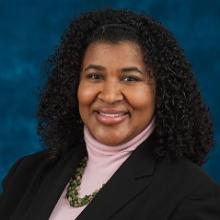 Dawn Michele Whitehead, Ph.D., is Vice President of the Office of Global Citizenship for Campus, Community, and Careers at the Association of American Colleges and Universities (AAC&U). Dr. Whitehead's work centers on integrative global learning with an emphasis on thematic local and international experiences that provide students with a variety of global learning opportunities across their educational experience. She also works on projects that integrate high-impact practices to provide students with consistent, high-quality liberal learning. Dawn holds an MS in International and Comparative Education, and her Ph.D. in Education Policy Studies, both from Indiana University Bloomington.
Panelists:
Sean Anderson (he/him) is a co-founder and director of EDU Africa and its parent company Muna Tree Holdings, with the mission to "Change lives through experiences in Africa." ​Sean has spent the past 14 years in Kenya, and is passionate about the transformative experiences this region can offer to students from abroad, especially with regards to the intersection of community development and environmental stewardship.
Catharina S. Rosendal is a professor of Danish Language and Culture at DIS Copenhagen. She infuses intercultural awareness and reflection through a comparative approach into her various courses taught to students from around the world. In addition to teaching, Catharina has a background in international marketing at the Carlsberg Group. Catharina holds a Master's in Second Language Teaching from Aarhus University, an M.A. from Copenhagen Business School and studies in French at the Université de Paris, Sorbonne.
Facilitators for WISE 2020 Pre-Conference Workshops (alphabetical order)
Amer F. Ahmed, Ph.D., is an organizational strategist who helps institutions and leaders address diversity and inclusion, equity, and intercultural development through consulting, coaching, group facilitation, and keynote speeches. A frequently requested speaker nationwide, his approach is grounded in a commitment to Inclusive Excellence in organizations and communities. Throughout his career, Amer has worked with large organizations, higher education institutions, non-profit agencies, schools and community groups to create understanding and change among key constituents and institutional leaders. Amer is the Founder and CEO of AFA Diversity Consulting, LLC, a consulting practice dedicated to enhancing the development of organizations through efforts around leadership, professional development, assessment, and strategic change.
Amy Allocco, Ph.D., is Associate Professor of Religious Studies and the founding director of the Multifaith Scholars program at Elon University. Amy is an ethnographer of South Asian religions whose research focuses on vernacular Hinduism, especially contemporary Hindu ritual traditions and women's religious practices in the South Indian state of Tamil Nadu. In addition to leading short-term study abroad courses in India, Amy is a prolific and award-winning mentor of undergraduate research.
Kris Acheson-Clair, Ph.D., former Fulbright scholar to Honduras, currently serves as director of Purdue University's Center for Intercultural Learning, Mentorship, Assessment and Research with a courtesy faculty appointment in the Brian Lamb School of Communication. Drawing on nearly two decades of classroom experience and a wealth of publications on the development and assessment of intercultural competence in higher education, she has focused CILMAR on scaling up intercultural learning for students, faculty and staff at Purdue.
Annette Benson serves as the Senior Public Relations Consultant for the Center for Intercultural Learning, Mentorship, Assessment and Research (CILMAR). As such, she oversees the external communication outreach for CILMAR. In addition, she manages the Intercultural Learning Hub (HubICL), a searchable digital repository of intercultural learning tools and research. She holds an MS in strategic communication with an emphasis in global communication from the Brian Lamb School of Communication at Purdue University.
Eric Hall, Ph.D., is a professor of exercise science and co-director of the Elon BrainCARE Research Institute at Elon University. His research interests include physical activity and mental health, and the impact of concussions in student-athletes. Additionally, he is interested in the influence of high impact practices on student development and role of faculty in mentorship of high impact practices. He has received awards for his mentorship of undergraduate students and scholarship.
Caroline Ketcham, Ph.D., is professor and chair of Exercise Science and co-director of Elon BrainCARE at Elon University. Caroline's disciplinary research focuses on motor control in neurodiverse populations, impact of concussions on student-athletes, and positive mental wellness advocacy. Caroline is also engaged in high-impact practice research including co-mentoring undergraduate research for student and faculty development, student-athlete access and engagement, and capstone experiences, and is an award-winning mentor to numerous students and colleagues.
Maureen Vandermaas-Peeler, Ph.D., is Interim Associate Provost and founding director of the Center for Research on Global Engagement at Elon University. A developmental psychologist, Maureen studies sociocultural and global contexts of learning and conducts research on high-impact practices. She is particularly interested in the role of mentors in supporting sustained, integrated experiences such as undergraduate research and study away. Maureen is the recipient of mentoring and scholarship awards at Elon.