WISE Conference 2023 general sessions will take place in Farrell Hall, home to the WFU School of Business, on the Reynolda [main] campus of Wake Forest University, approximately 3 miles north of downtown Winston-Salem.
The Opening Plenary will be on Thursday, February 8, beginning at 4:30pm in the WFU Byrum Welcome Center. A welcome reception will be held immediately after the Plenary.
Pre-Conference Workshops will be conducted at the WFU Brookstown campus located in The Historic Brookstown Inn complex, less than a mile south of the downtown core.
Post-Conference Workshops will be held in Farrell Hall.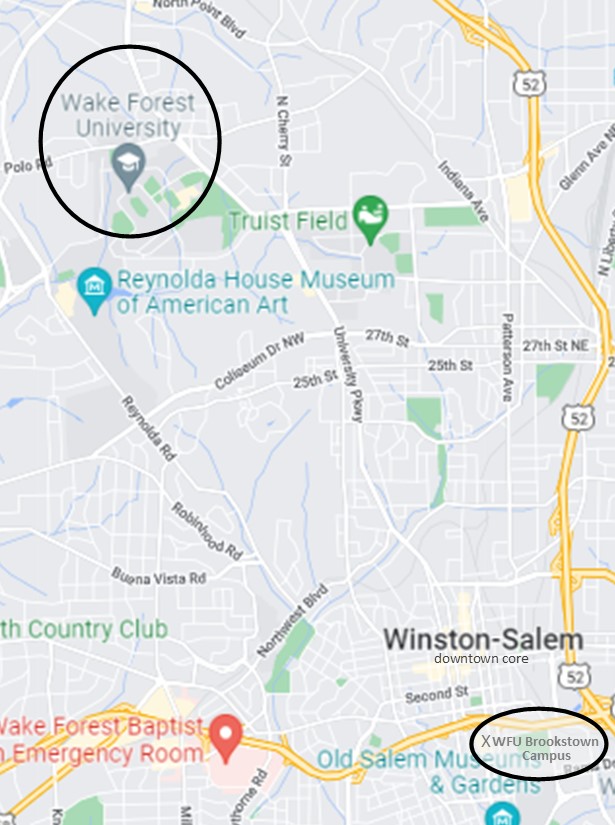 Getting to the WFU Campus
When seeking specific directions with your gps device, use "Wake Forest University School of Business" as the destination for the general conference sessions; use "Porter Byrum Welcome Center" for the Opening Plenary and Welcome Reception.
NOTE: Wake Forest is also the name of a town in North Carolina about 100 miles east of campus.
Information regarding the WFU Brookstown Campus (200 Brookstown Avenue SW, Winston-Salem, NC) for Pre-Conference Workshops may be found on the Conference Workshops tab.
Email any travel related questions to wiseconference@wfu.edu.
Winston-Salem is served primarily by the Piedmont Triad International Airport (GSO) in Greensboro, NC. Commercial airlines serving the Piedmont Triad Airport include American Airlines, Delta, United Airlines, USAirways and Allegiant Air.
Taxis and rental cars are available, and express shuttle service is operated by PART from the PTI Airport to each major city in the Piedmont Triad. Although the shuttle may not be the most efficient mode of transportation you can't beat the fare at $5.00 for adults with free transfers. You can schedule an Uber/Lyft for ~$40 one way or visit www.visitwinstonsalem.com or the WFU Visitors' Center for information on cabs, limousine services, shuttles and rates.
Charlotte Douglas International Airport (CLT) is approximately a 90-minute drive to Winston-Salem as is the Raleigh/Durham International Airport (RDU). There are no regular shuttles between the two and Wake Forest University so you will need to rent a car or use Uber/Lyft. This will likely cost $100+ one way from either airport to WFU.
The Smith Reynolds Airport in Winston-Salem is available to charter and private aircraft.
For the first time, WISE Conference will be held on the main campus of Wake Forest University. All conference activities will take place in Farrell Hall, home to the WFU School of Business. The address is 1834 Wake Forest Road, Building 60, Winston-Salem, NC. It is a short drive/Uber ride from any of the recommended hotels or other locations in town.
Parking is available in designated lots near Farrell Hall. WISE directional signage will point you to various options. Parking passes are not needed.
Parking at the Porter Byrum Welcome Center if abundant and free.
Amtrak provides rail service to Greensboro and High Point through its Carolinian route. For reservations, call 1-800-USA-RAIL. You will then need to get a transfer to Wake Forest University in Winston-Salem, NC.
Dining in Winston-Salem
Winston-Salem is home to many independent and top-ranked restaurants. If you want to explore the city's dining options, we recommend using Yelp or VisitWinstonSalem.com